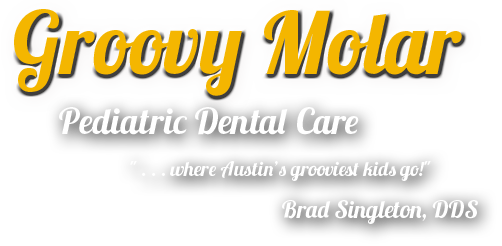 Click for our Contact Info
Pediatric Dentistry in Austin is "Groovy!"
…your molars are the "grooviest" teeth
Groovy (gru' vee)
1 : marvelous, wonderful, excellent
2 : hip, trendy
Groove (gruv)
n.  1.  A furrow, channel, or long hollow
example: Your teeth have numerous anatomical grooves.  Thus, teeth are                                                       very groovy!
Molar (mo'lr)
n.  1.  A tooth with a broad crown used to grind food.
example: The molar has deep grooves.

Thank you for giving us the privilege of taking care of your child's groovy molars, and starting him or her off to years of excellent dental care and a lifetime of smiles!
Meet Brad Singleton, DDS | Austin Pediatric Dentist

     Diplomate, American Board of Pediatric Dentistry*
I love what I do!  Working with your children to instill good habits, educate, and care for his or her oral health, together we will see that trips to the dentist can be fun, comfortable, and rewarding.
As a pediatric dentist and father of two boys, it is not only important for a pediatric dentist to have excellent clinical skills and education, but an ability to provide a calm, reassuring environment for children.
I understand that each child is different in regards to
how he or she may respond to others and individual
dental needs.
My oldest son, born with special needs, has taught me more
than 6 years of dental training ever could in "patient care,"
and I am proud to bring that understanding and compassion
to your children.